Press Releases_
Press Release
Aumua Part of VA Bill Floor Debate
Washington, D.C. - Wednesday (July 28, 2015), Congresswoman Aumua Amata, For the hotly contested floor debate yesterday on H.R. 1994, the VA Accountability Act, which split Members largely along party lines, House Veterans Affairs Committee Chairman Jeff Miller (R-FL), who managed the debate for the Majority, selected Amata as one of only eight speakers to speak in support of the measure during the half-hour allotted to the majority side. When the smoke cleared, the GOP had prevailed with the passage of the bill by a vote of 256 - 170, including a number of Democrats joining the winning side. The measure will now move to the Senate for consideration.
Congresswoman Aumua Amata and HVAC Chairman Jeff Miller (R-FL) on the House floor during debate for H.R. 1994
"For too long, our veterans, including the large number I represent in American Samoa, have been subjected to improper treatment, long wait times and other serious matters that have yet to be addressed," said Amata. "This common sense legislation, of which I am proud to be a cosponsor, will enable the VA to hold those who do not perform their duties accountable, which will surely lead to better services for our veterans. No longer should our veterans come second to lifelong bureaucrats who have gamed the system while our veterans have suffered," stated Amata.
The push for greater accountability measures began last year after egregious actions by VA employees were discovered, including falsifying wait times for veterans waiting to see a physician, which resulted in several deaths at the VA facility in Phoenix, which Amata visited in May to see what improvements had been made. Yet only two people have been held accountable so far, verifying the need for reform. Further strengthening the case for real reform is the mismanagement of several high-profile VA construction projects that have cost the American taxpayer billions of dollars in just the past few years.
"I applaud my colleagues for stepping up today to address the troubling lack of accountability eroding VA's ability to care for our veterans. The VA Accountability Act will provide the Secretary of the Department of Veterans Affairs the ability to make real reforms and bring much needed accountability to the department. Today, we stand with our veterans because the status quo has failed them and the American people for far too long," stated House Veterans Affairs Committee Chairman Jeff Miller.
Press Release
Aumua Sees High Tech as Hope for American Samoa Economy
Washington, D.C. - Thursday (July 23, 2015), Following a hearing of the House Small Business Subcommittee on Health & Technology, Chairman Aumua Amata expressed her optimism on the potential for high tech companies to operate and greatly impact the economies of rural areas like American Samoa.
"It is essential that we help foster growth in the app industry," said Amata. "It has been noted that by 2017, the app industry will potentially be worth $151 billion. This unprecedented growth is a boon to our economy, which relies upon the success of our entrepreneurs and small businesses," continued Amata.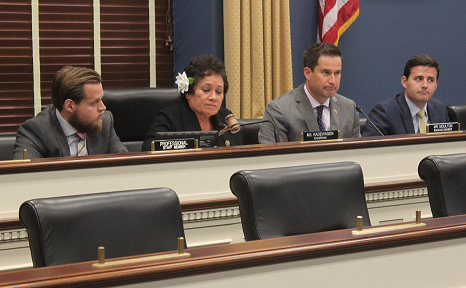 Congresswoman Amata / Chairman of the House Small Business Subcommittee on Health & Technology, gavels in the first hearing of the session
The hearing titled, Modern Tools in a Modern World: How App Technology is Benefitting Small Business, invited witnesses from the app industry to discuss the increasing use of app technology and the implications for small American businesses, particularly in under-served areas of the country. The hearing also examined how apps improve businesses' day to day operations by making them more efficient, assisting in marketing and outreach capabilities, and ultimately stimulating revenue and job growth.
During the hearing, the witnesses testified on the many benefits as well as difficulties facing the industry. One of the concerns raised was in regard to overregulation and no clear set industry standard on property rights issues. Other issues ranged from the ability of small businesses to compete with their larger counterparts thanks to the technology, to the benefits of employment opportunities for rural areas.
Several apps were mentioned during the hearing to demonstrate the diversity of the origins of the apps and who can utilize the technology, including Kavagram, which was created by Pago Pago native, Sonny Stevenson. Kavagram is a photo app that allows users to add Polynesian cultural filters and designs to their photos before sharing them with friends and family, or on social media.
"It is an honor to serve as the Chairman of this distinguished committee and I look forward to leading it as the 114th Congress progresses. It is our mission to ensure that America' small businesses are given every opportunity to succeed and to limit the burdens placed upon these companies that make up over 99% of our economy," concluded Amata.
Press Release
Aumua Urges House to Hold the Line On Funding
Congresswoman Aumua Amata and Chairman Ken Calvert engage in a colloquy on the House Floor during amendment debate for the FY 2016 Interior Appropriations bill
Washington, D.C. - Thursday, Congresswoman Aumua Amata, "Mr. Chairman, the world has changed much since the inception of the program to assist American Samoa Government operations and additional needs have arisen. Local revenues have remained relatively constant, and the infrastructure has become dated and in disrepair, which has caused undue hardship to both our people and businesses that rely upon our roads, airport and port, said Amata. In fact, the recent decision by the NOAA National Weather Service to terminate weather observation service in American Samoa, which our local airport relies upon for flight operations, has prompted the need for the construction of a tower at Pago Pago International Airport. This facility would serve as a standard control tower and would also contain the weather monitoring service after NOAA ceases operations," continued Amata.
During the debate on the Department of the Interior appropriations bill for fiscal year 2016 yesterday, Congresswoman Aumua Amata took to the Floor to urge her colleagues to maintain funding for American Samoa at its current levels and deliberated on other needs for the islands.
Engaging in a colloquy with Rep. Ken Calvert (R-CA), who serves as the Chairman of the House Appropriations Subcommittee on Interior, Environment, and Related Agencies, Amata acknowledged the budgetary pressures Congress is facing and commended Chairman Calvert for recommending to the House that there be no reduction in funding for American Samoa next year.
"My home district was devastated by a tsunami on Sept 29, 2009 that killed many of our people. I was there at the time. If it hadn't been for the fact that I had a scheduled meeting at that very time and was already awake, I would have been killed by the wave. We also lost our tuna cannery the day after the tsunami which was half of our private sector employment," said Amata. "We are also suffering from the prolonged recession here in the States, and suffered another setback with the recent longshoremen's strike that exposed just how dependent we are on outside resources. Chairman Calvert, I encourage the committee that, when considering funding levels for the territories, to keep in mind our economic and geographic isolation and the extreme disparity in opportunities for growth between these regions and the states," continued Amata.
In response, Chairman Calvert extended his own remarks to the Congresswoman stating, "As someone who has always had the utmost respect for our fellow countrymen from the territories, I look forward to working with the gentlewoman from American Samoa and I want to thank her for her efforts to inform the committee of the issues facing the Insular Areas. I am well aware of just how dedicated to our nation the people of American Samoa are, as displayed by their extremely high rate of enlistment into our country's armed forces. Your membership in this body is highly valued and your appointment as Vice Chairman of the Indian, Insular and Native Alaskan Affairs Subcommittee as a first term Member is a testament to the perspective and leadership you bring to Congress. I know that through your leadership, your people are well represented and have found themselves a champion for their cause."
Press Release
Aumua Questions Bureau Official Regarding Mismanagement of Bonds
Washington, D.C. - Tuesday, Congresswoman Aumua Amata, "As a Member of the Oversight and Investigations Subcommittee for the House Natural Resources Committee, it is my responsibility to participate in hearings and other committee activities that provide supervision over the Department of the Interior. This is essential to ensuring that the resources of the Department are being responsibly managed and that its' programs and projects are being administered properly," stated Amata.
The Subcommittee on Oversight and Investigations held an oversight hearing on Wednesday entitled, "GAO Report Documents BLM's Chronic Mismanagement of Wind and Solar Reclamation Bonds", which focused on the Bureau of Land Management's (BLM) repeated failure to ensure that bonds for renewable energy projects on federal land are sufficient to cover reclamation costs, are accurately tracked, and securely stored. The main focus of the hearing was to review a report published by the U.S. Government Accountability Office (GAO) that found the Bureau of Land Management (BLM) is chronically mismanaging its bonding program for renewable energy projects.
The report found that BLM systems for tracking bonds are unreliable and inconsistent; BLM does not adequately bond some rights-of-way; BLM does not consistently document how it makes bond amount decisions; and BLM's physical handling and storage of bonds is also deficient.
"The mismanagement and lack of common sense regarding the management of taxpayer dollars by the BLM is unconscionable and I want to thank Chairman Gohmert for helping to shine the light on this issue. It is time that BLM begin properly managing these bonds, which value over $100 million, and provide periodic updates to Congress so that we can make sure they are performing their duties to the American taxpayer," concluded Amata.
Press Release
Aumua Supports Self-Determination for Fellow Territory
Washington, D.C. - June 24, Wednesday -- Congresswoman Aumua Amata, "Anytime one of our fellow territories speaks out for their own self-determination, I will be there by their side to support them. We can no longer tolerate the onus of cultural imperialism at the expense of our own people. I will always side with those people who believe that it is their own will and determination that should decide their future in regards to political status and not that of the U.S. Courts," said Amata.
Congresswoman Aumua Amata at the Natural Resources Subcommittee Hearing on Wednesday
The House Natural Resources Subcommittee on Indian, Insular & Alaska Native Affairs conducted a hearing in Washington today entitled, Examining Procedures Regarding Puerto Rico's Political Status and Economic Outlook. The purpose of this oversight hearing was to discuss the relationship between the current economic crisis gripping the island and the unresolved issue of political status. The discussion featured two separate panels consisting of former Governors and other high-ranking Puerto Rican Officials, both past and present.
While the focus of the hearing was intended to concentrate on the relationship between Puerto Rico's uncertain political status and its' effect on the territory's economy; the discussion for the most part centered specifically with simply the political status of the island.
During the hearing, Amata addressed former Puerto Rico Governor Luis Fortuno, regarding a recent decision by U.S. Courts in regards to the political status of American Samoan U.S. Nationals and the implications it has on the political status of Puerto Rico's citizens.
"A federal court of appeals just rejected the argument lawyers made in a case claiming the national citizenship clause in the Constitution applies in American Samoa and all other unincorporated US territories," stated Amata. "So once again the courts have confirmed that U.S. nationals in American Samoa and U.S. citizens from Puerto Rico and the other three unincorporated territories are forced to relocate to a state of the union to secure full and equal rights and duties of US citizenship. That means full and equal rights of national citizenship, including the fundamental right of government by consent through voting rights in federal elections, are guaranteed only through citizenship in a state rather than a territory. So for residents of all five unincorporated territories who don't move to a state, the status of a US national in American Samoa and a US citizen in a territory is constitutionally the same, with only those rights under the Constitution and federal law confirmed by Congress in federal statutes enacted under the territorial power," concluded Amata. The well informed and gracious response from the former Governor supported both the decision by the courts and the position of Congresswoman Aumua Amata.
Press Release
DOI Announces Internships for Office of Insular Areas
Congresswoman Aumua Amata and Assistant Secretary Esther Kia'aina
Washington D.C., May 19, Tuesday -- Congresswoman Aumua Amata, was informed of the selection of four students from the U.S. Insular areas to participate in the Office of Insular Affairs Internship Program.
"I want to thank Department of the Interior, Assistant Secretary Esther Kia'aina for informing me of the selections and for her work to ensure that our young people from the Insular Areas are being included in opportunities to get involved in serving the nation," said Amata. "I can think of no better to way to get our young people involved in the process and informed about how government affects their lives," continued Aumua.
The following four students were selected to participate in the program: Fuatino Leleo Solaita of American Samoa, James Passi Camacho of the Northern Mariana Islands, Cajay S.T. Jacobs of the U.S. Virgin Islands, and Martin Joseph Moore III of the Republic of Palau. These successful students were chosen out of a pool of approximately 400 applicants from across the country for this paid internship program, the first of its kind for the insular areas.
Fuatino Leleo Solaita, who hails from the village of Nu'uuli, is pursuing a Master's Degree in Business Administration from Chaminade University in Hawaii. She is a graduate of Samoana High School and received her B.A. in Business Administration from Chaminade University and is currently working as a Human Resources Practitioner at the American Samoan Government Department of Human Resources.
"I especially want to congratulate Fuatino Leleo Solaita on her continued pursuit of excellence and furthering her career through this opportunity. It is imperative that we get as many of our young people to participate in these programs, as they will be the future leaders of our community," concluded Amata.
---
Return to front page
Press Release
Aumua Honors Fallen Soldier
Washington D.C., May 18, Monday -- Congresswoman Aumua Amata, honored a fallen American Samoan soldier by placing a wreath at the Vietnam War Memorial and submitting the following Statement for the Congressional Record.




Aumua Amata, her staff and members of our Armed Forces in front of the Vietnam War Memorial

"Mr. Speaker, I rise today in memory of Staff Sergeant (SSGT) Faleagafulu Ilaoa, who lost his life while serving our great nation.

Ilaoa, whose parents hailed from the village of Leone, American Samoa was born on April 6, 1948, in San Francisco, CA. SSGT Ilaoa spent his youth like many of us do...dreaming of one day serving his country in our armed forces. Never to be deterred from his goals; following graduation from high school, Ilaoa joined the Air Force as a Military Policeman. These men not only serve as police officers to their fellow service members, but also participated in rescue operations, often in hostile territory.

On Monday, May 13, 1975, the U.S. merchant ship Mayaguez was seized by Khmer Rouge forces off the coast of Cambodia. The following evening a rescue operation to save those on board the merchant vessel was launched by the Air Force's 56th Security Police Squadron (SPS).

At around 8:30 in the evening, on route to the Mayaguez, the Chinook helicopter carrying the 23 security police operators, including SSGT Ilaoa disappeared from radar approximately 40 miles from their base in a remote area of Northwest Thailand. To this day, the cause of the crash, whether it was mechanical malfunction, pilot error or enemy fire, is not known.

Mr. Speaker, I ask all Members of the U.S. House of Representatives to join me recognizing the sacrifice of all who lost their lives on this mission and I personally would like to salute SSGT Ilaoa for his service to our nation and the proud legacy he left for all American Samoans."




Source: Congresswoman Amata Radewagen
---
Return to front page
Press Release
Amata Recognized by Center for Army Analysis, for Asian-Pacific Heritage Month
WASHINGTON, May 8 -- Thursday, Congresswoman Aumua Amata
"I am excited and honored to be with you today. I cherish these occasions, because we Samoans are particularly proud of our brothers and sisters who serve in the armed forces to protect the freedoms we all treasure, and even more so, because I come from a family with a strong military tradition. My grandfather served in the Navy and was part of a team that helped set up a local government in American Samoa in the early 1900's. My dad, who saw action in WWII in the Southwest Pacific is to my knowledge the only Samoan enshrined in the U.S Army's Infantry Hall of Fame at Ft. Benning, GA., and I was privileged to be with him at his induction ceremony. I have three brothers who are Army veterans and one who served in the Navy including a tour in Vietnam and retired with a 100% service connected disability. My sister's husband was a career NCO, who retired after serving two tours in Iraq, and their three sons are all commissioned officers in the United States Army, so I know a little about military ritual," said Amata.
The Congresswoman was invited to speak to the assembly of high-level civilian employees and senior military officers at the Center for Army Analysis (CAA) in Ft. Belvoir, VA. in recognition of Asian-Pacific American Heritage Month.
Following her words to those gathered, the CAA presented Aumua Amata with a Certificate of Appreciation in recognition of her character and achievement and for sharing her time and knowledge on the challenges and achievements of all Asian-Pacific Americans.
"I am honored and humbled to be recognized by the Center as we honor the Asian Americans, Native Hawaiians and Pacific Islanders who have strengthened and helped diversify our great nation, and I look forward to ensuring that we recognize their achievements not just for the month of May, but throughout the entire year," concluded Amata.
Source: Congresswoman Amata Radewagen
---
Return to front page
Source: Congresswoman Aumua Amata (Facebook)
Washington, D.C. - Friday, Today I am happy to announce the awarding of a $1,000,000 U.S. Department of Transportation grant for improvements to Pago Pago International Airport.
I am pleased that the Department of Transportation has awarded this important grant that will serve to make long overdue improvements and repairs to the 10,000 ft. runway at Pago Pago International Airport. I would like to thank Director of the Department of Ports Administration, Taimalelagi Dr. Claire Poumele and those others who worked to secure this funding that is so important to our islands.
---
Return to front page
Press Release
Chairman Gives Aumua Special Responsibility for Oversight and Investigations of Insular Areas
Washington, D.C., April 19, 2015, Wednesday -- Congresswoman Aumua Amata, In response to her offer at the inaugural hearing of the House Natural Resources Subcommittee on Oversight and Investigations, Chairman Louie Gohmert (R-TX) assigned special responsibility to the freshman Congresswoman from American Samoa for any oversight and investigations relating to the insular areas, which are under the jurisdiction of the subcommittee. "Since you are the only member of the subcommittee from the islands, should you see a need for a hearing or any oversight for that (region), we will cooperate in any way we can due to your special position," said Chairman Gohmert.
Amata also took the opportunity of the hearing entitled, "Zero Accountability: The Consequences of Politically Driven Science," to voice her strong concern with outside environmental groups dictating the use of the oceans surrounding the islands, without adequate consultation or regard for the people affected.
"As we all know, the National Ocean and Atmospheric Administration (NOAA) is the agency that provides oversight for our nation's fisheries. We also know that it is no secret that NOAA is often influenced by the large environmental lobbies that have no personal stake in the region, when formulating the "science" that will be used to set policy for the nation's fisheries. This often leads to questionable findings which are then used to smother industry," said Amata.
"It is common knowledge that the best stewards of the environment are most often those who utilize it for their livelihood. After all, would any fisherman who counts on a steady and reliable catch want to deplete the resource that their family relies upon? Would a farmer continuously plant crops in the same field year after year, thereby depleting the soil, simply for a larger profit for just one year? While I am sure that these things do happen, it is certainly not the norm. ..No, these people care for their land and the waters that provide their income ... certainly much more so than a lobbyist in Washington. So why is it that they have no say in how these resources are regulated?" concluded Amata.
# # #

Posted by Aumua Amata on Wednesday, April 29, 2015
---
Return to front page
Source: Congresswoman Aumua Amata (Facebook)
I Questioned the Administration's proposed changes to Part 83
Washington, D.C. - Wednesday, I said the recognition of new tribes has a significant impact on the federal budget, existing recognized tribes, criminal laws, tax jurisdiction, and individual rights, Federal recognition regulations under Part 83 were created by the Department of the Interior, not Congress, even though Article I, Section 8, Clause 3 of the Constitution delegates only to Congress the power to regulate Indian affairs. The overreach of authority that seems to happen time and time again from this administration must stop.
Last year, the Bureau of Indian Affairs (BIA) published a proposed rule to "revise regulations governing the process and criteria by which the Secretary [of the Interior] acknowledges an Indian tribe."
Following a public comment period, the Department of the Interior informed Congress that a final rule is anticipated before the end of 2015, and largely mirrors (with a few small changes) a "discussion draft" publicly circulated in 2013. Regulations by which the Secretary recognizes a tribe commonly called "Part 83" because it is contained in Part 83 of Title 25 of the Code Federal Regulations. The Office of Federal Acknowledgment (OFA) within the Department of Interior processes petitions from groups seeking recognition as tribes under Part 83.
We should all take notice anytime a federal agency tries to usurp the authority of Congress. The people elected their representatives for a reason and the purpose of this hearing is to ensure that we are doing what the people sent us here to do, which is exercise the authority bestowed upon Congress on their behalf. This proposal from the BIA would undermine that authority.
---
Return to front page
Op-Ed: Empowering the People
Reprinted from Samoa News
Fri, 02/14/2014
By Aumua Amata
Whenever I have gone to national conventions or national committee meetings over the years, I always have tried to meet up with if not involve local communities of Samoans and other Pacific Islanders in the events I am attending. Sometimes I have found communities in unexpected places, such as Minneapolis-St. Paul, which hosted the 2008 Republican National Convention and Boston, which was the venue for our summer meeting last year. Indeed, one of the key organizers of our Minnesota events, Salo Ale, since has returned home and is now our attorney general.
Of course, there are substantial islander communities in and around San Diego; they already are well organized. They are active socially and in charity work if not in politics. So, when I was invited to the city to help with the final push for the special election for mayor, which was held Tuesday, I jumped at the chance, for I saw it as an opportunity to bring together the leaders of our islander communities with the city's political leadership. My position as the senior member of the Republican National Committee affords me vast opportunities for political access and my goal always is to transfer that access to our people to serve their purposes and advance their agendas.
Thanks to the Rev. Benson Fuaautoatasi Mauga of Nuuuli and Pago, pastor of the First Samoan Baptist Church and his wife Mouna Mauga, Mary Pritchard's granddaughter Tania Farley, Jericho Toilolo and wife Tupou-Sekona Toilolo who is related to me, Tevesi and Tammy Fa'apouli, Poulima Su'esu'e, Kitiona Leasau, Pete Tauvela, Casey Tiumalu, Vai'ula Tiavao, Benson Jr. and his wife Maria, Sauma'a Laulu, Homer, Rainbow, Hutch, Ciara, Taimani, Tavita, Noelle and others we were able to pull together a group of Samoans, Tongans, Chamorros and other islanders to meet and interact with Kevin Faulconer, work on his phone banks, walk the precincts over the weekend before the election, then help turn out the vote on election day. When the ballots were counted on Tuesday night, City Councilman Faulconer, the Republican candidate, emerged victorious by a vote of 54.5% to 45.5%.
Faulconer now becomes the only Republican mayor of one of America's 10 largest cities, which also is the second largest city of America's largest state. As such, he becomes an important political figure who, at age 47, should have a big future on the national political stage. Remember that former U.S. Senator and Governor Pete Wilson launched his political career as a San Diego city councilman and mayor.
Most important for us is that our Samoan community now has a foot in the door to seeing its critical needs addressed. In his remarks to supporters at the election night party, the Mayor-elect reiterated his pledge to engage all of San Diego's minority communities, practice inclusionary governance and make certain everyone has a seat at the table. For my part, I am talking to Kevin and his senior staff, one of whom once was my colleague on the U.S. House leadership staff, about establishing a Pacific Islanders Advisory Council. Over the weekend, Kevin already made a pledge to me to attend San Diego's Pacific Islanders Festival in September, so we are off to a good start.
Moreover, San Diego is the home base of American Samoa's purse seiner fishing fleet. I spoke to a number of the boat owners about the importance of electing Kevin and also will be working with the mayor's office to make sure the fishing community has a seat on his business advisory council so that their needs can be addressed as well.
Among other things, I would hope we could count on the new mayor to use his influence with the sizable and influential California congressional delegation to express our concerns about keeping the "Buy American" program strong for tuna sales for school lunches. Southern California Congressman Buck McKeon (R), for example, as chairman of the powerful House Armed Services Committee, is very well familiar with the importance of "Buy American" as it applies to Defense Department purchases.
It all starts with the people, though. I know that Congressman Faleomavaega over the years has encouraged our people living stateside to get involved politically and I wholeheartedly agree. We may belong to different parties and have sharp philosophical differences in our approaches to public policy issues but I think he would agree with me that our people are best served when they are strongly and visibly active in both parties. Our community now has some solid visibility with the new mayor, so my work in San Diego is done. Now it is up to our people to empower themselves.
---
Return to front page