Press Releases_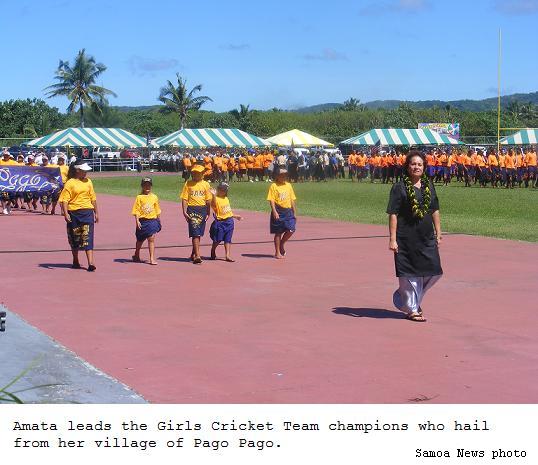 May 8, 2009
Aumua Amata says perspective needed on Stimulus Ranking
PAGO PAGO. May 8, 2009. Aumua Amata today commented on the April 24 Washington Times story that revealed American Samoa on a per capita basis is the top recipient of federal stimulus funds saying, "I would echo the comments of a spokesperson for Vice President Biden, who in the same article called it a "biased and flawed analysis."
"The list of the top states and recipients clearly shows what the flaw is," Amata added. "American Samoa, the District of Columbia, the Virgin Islands, Puerto Rico, Rhode Island, Vermont and North Dakota are all among the very smallest jurisdictions in the country when measured by population."
Amata continued, "If Congress were to provide funding for a community fire truck, for example, that truck might serve a half million people in a major metropolitan area but only a fraction of that number in a small state or territory. But the truck is going to cost the same, no matter how many people it would serve. You can't give a full truck to Los Angeles but only one tenth of a truck to American Samoa."
"Also remember that bills need 51 votes to pass the Senate and Rhode Island, Vermont and North Dakota have just as many senators as New York California and Texas if only a fraction of the population. Most of what they receive is calculated on a formula that ensures that every jurisdiction receives something. So, if there were to be fire trucks, we would be assured of getting one and so would the smallest state, Wyoming, with eight times our population."
She opined, "While it may make us feel good to shake our fists at The Washington Times and remind them how much blood we have spilled defending our country, I am more concerned that we spend sufficient time educating Members of Congress and Executive Branch officials as to why such analyses are flawed so that policymakers are not influenced by them when making decisions that can impact us. Moreover, it might be useful every now and again to educate people on why we do not pay federal income taxes so that issue can be put into perspective, too. Maybe those kinds of reasoned arguments would get published."
"For those reasons, neither would I have touted our ranking in the first place, particularly since we did nothing more to earn it other than to be small. Bragging only invites unwanted attention and reinforces the biases of those who would prefer we receive no funding at all."
Aumua Amata concluded by saying, "It was just such a knee-jerk reaction to someone's flawed analysis of our economic structure that led to our inclusion in the last minimum wage bill, which continues to have consequences for us today."
---
New archaeological site mapped near Vatia
Source: Samoa News
January 15, 2009

Vatia villagers have always known these sites that lie inside the National Park, exist on Faiga Ridge in Vatia. Led by NPS archaeologist Epifania Suafo'a-Taua'i, NPS staff, along with Aumua Amata visited the area on Friday, Jan. 9, 2009. It was a four hour hike up and four hours back from the ridge.

The purpose of the hike was to record coordinates of the house sites, graves, grinding stones and pigeon-snaring star mounds — to map the finds for Global Positioning Systems (GIS) and Geographic Information Systems (GIS). The sites will be added to the national database of the U.S. National Park Service, under which the local park comes. Determining how old the sites are will come later.

A look at the largest of about 25 ancient Samoan house sites found that measure 25 meters (about 82 feet) by 17 meters (56 feet).