Since its founding in California in the 1990s, ILF has established a track record of recognizing individuals who have made exemplary contributions to the APA community, including such distinguished persons as Secretary of Labor Elaine Chao, film star Jackie Chan and former Transportation Secretary Norman Mineta, who is honorary chairman of the ILF board. Amata will have the distinction of being the first Samoan whose contributions have been recognized by ILF.
Each year ILF provides scholarships and organizational support for over 30 APA college students to participate in its Public Affairs Fellowship Program in Washington, DC. Students are selected who are likely to become leaders in the academic, business, community, professional or public services. Over 500 students have received ILF Fellowships or leadership training.
In their letter of invitation to Amata, Dr. Hsu and Mr. Chen explained that annually ILF "recognizes a small number of truly remarkable individuals and organizations to honor at our annual awards dinner." This year ILF also will recognize the public service contributions of Louisiana Governor Bobby Jindal, California Congressman Mike Honda and the Committee of 100, a Chinese-American civic and advocacy organization.
In conclusion wrote the ILF leaders to Amata: "Thank you for being a role model for our youth to follow in your footsteps."
For more informational about the International Leadership Foundation, or to attend its Annual Gala on July 17th in Washington, D.C.
International Leadership Foundation
P.O. Box 14382, Washington, DC 20004-4380
Tel: (202) 258-5023
WWW.ILEADER.ORG
---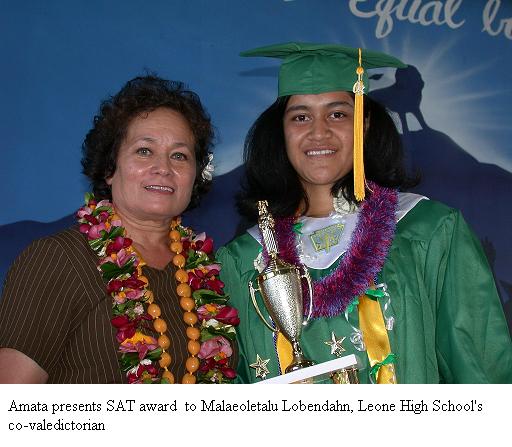 Aumua Amata Lauds Local Leaders for the military voting bill; commends CSM Savusa
Pago Pago. Aumua Amata today commended the Fono for passing and the Governor for signing the bill to allow our military sons and daughters whose home of record is American Samoa to register and vote absentee from off-island. "Our right to vote is one of our most precious rights," said Amata. She thanked them as well as Chief Election Officer Soliai for their efforts to make it easier, not harder, for every eligible person to register and to vote absentee if there are legitimate reasons to be off island at election time. Nothing could be more legitimate than service abroad in the U.S. Armed Forces.
Aumua continued, "I compliment CSM Savusa for his persistence and energy in pushing out this issue. Last year he was kind enough to share with me his thoughts. I appreciate his courtesy in allowing me to add my perspective to the dialogue. In brief, last August I offered some suggestions to expedite passage and pointed out that I was concerned as much over how the matter was to be resolved as I was about the issue itself."
She emphasized, "To me, the issue of registration and absentee voting must be looked at in the larger context of self government. For Congress to have imposed from Washington this change in our system would have been a real setback in the evolution of our self government, in my view. Thankfully, our leaders acted and that drastic step was not necessary."
"I told CSM Savusa then that he had "my support on easing restrictions on registration and absentee voting for service personnel and I pledge to you that I will raise this issue personally both with current Fono members and candidates who will be seeking office next year. I can do no less to honor the memory of my father, who himself proudly served our country in the U.S. Army in World War II. God bless you for all that you do for all of us," Aumua Amata concluded.