Press Releases_
Aumua Amata says farewell to Senator Edward "Ted" Kennedy
Friday August 28, 2009
Samoa News
Aumua Amata today offered her deepest condolences to the Kennedy family with the following statement:
"I want to offer my deepest sympathy to the Kennedy family on the passing of their patriarch, U.S. Sen. Edward M. "Ted" Kennedy, who died earlier this week at his home on Cape Cod, Massachusetts.
Sen. Kennedy, who served in Congress for nearly 47 years, was one of the most influential legislators in American history because he had the ability to work across party lines to build unlikely alliances on a wide variety of issues. He did not care who got credit for the laws he helped pass and was particularly a champion of poor and disadvantaged people.
You did not have to agree with Senator Kennedy on the issues to like him and admire him, and I count myself among his admirers.
Although I did not know the Kennedys well, I am very much aware of the impact they have had not only on the Territory but on my own family, too. Of course, we all have benefited from many of the laws Senator Kennedy wrote over the years but other Kennedys also have left their mark. The senior senator's death comes just two weeks after that of his older sister, Eunice Kennedy Shriver, the founder of Special Olympics.
When my dad was Governor, we worked with Mrs. Shriver on trying to get athletes from American Samoa to participate in her Special Olympics, the organization she founded to showcase the athletic talents of young people with intellectual disabilities.
Because I have a sister with Down's Syndrome, the Special Olympics program is near and dear not only to me but to everyone in my family and I know dad was disappointed he could not get an American Samoa team put together before he left office.
President Kennedy also played an important role in the history of my family because it was he who asked my father to become chief administrator of the Marshall Islands in 1961. Dad always credited his time in the Marshalls for sparking his interest in developing indigenous governmental systems, a passion which he pursued the rest of his career.
So, as I say farewell and may God be with you, Senator Kennedy, I say farewell to all the Kennedys of his generation. It is truly the end of an era. They will be missed very much."
AUMUA AMATA
---
Aumua Amata's Unemployment Relief Initiative gives hope for 2500 soon-to-be terminated Chicken of the Sea Samoa Packing employees
Aumua Amata says her project with Professional Personnel International to help provide unemployment relief for 2000 Chicken of the Sea employees who will be jobless when the plant closes in less than two months is going very well. The turn-key private sector company headquartered in Texas with offices in Manila and Guam may turn out to be a savior for many local workers after September 30, their last day at Samoa Packing.
Said Aumua, "Some of the cannery workers will need to be trained to do other work so ASG can be extremely helpful in working closely with the federal government on Job Corps and Job Retraining Act and other federal funding efforts."
According to the retired federal employee and former congressional candidate, PPI Guam has asked for an inventory of all the workers so they can be analyzed and forms will then have to be filled out. Each worker will be individually interviewed by PPI Guam with the use of a webcam or teleconferencing facility. "We will be setting up tables outside of the Samoa Packing plant," Amata added, "to receive application forms from the workers. I want to reassure COS management that we will carry out these tasks in between shifts and not while they are working because we do not want to interfere with their working schedule inside the plant. Professional Personnel Guam wants to interview each and every worker who wishes to pursue this opportunity."
Aumua indicated that U.S. nationals (those born in American Samoa) and U.S. citizens will be accepted right away if they meet qualifications. Permanent and temporary resident aliens will be next will require an H2B visa and PPI Guam will help them with the necessary documents so that will take additional time to process.
Amata concluded that, as the project advances, she will keep the local community posted through regular updates in the local media.
---
June 17, 2009
Aumua Amata urges ASG to explore a federally funded feasibility study of an employee stock ownership plan for COS
Pago Pago -- At a meeting with Acting Governor Faoa Aitofele Sunia last Saturday, Aumua Amata urged the American Samoa Government to do a feasiblity study to consider exploring the potential of developing an Employee Stock Ownership Plan (ESOP) for the Chicken of the Sea (COS) cannery.
Under an ESOP a new company, owned in whole or in part by the plant's employees, would take control of the facility when the current owners pull out on September 30.
"While the Governor and the Delegate are looking at ways to create new jobs for all of those cannery workers who will become unemployed on October 1 — as rightfully they should be, I thought it might be useful to think outside the box to see if there might be a way to save the existing plant," said Amata in explaining her thinking.
During her recent trip to Washington to attend a special meeting of the Republican National Committee, Amata also scheduled a meeting with Paul Horn, one of the country's leading ESOP experts. "I asked Mr. Horn to prepare a proposal for a feasibility study on an emergency basis and I presented that plan to the Acting Governor Faoa Aitofele Sunia on Saturday," said Amata.
Amata also had hoped Governor Togiola Tulafono might be able to meet with Mr. Horn and she and he both were in Washington but was unable to reach the Governor to make the suggestion. Before departing Washington, Amata also met with senior majority and minority staff members in the Senate and the Minority Staff Director of the Full House Natural Resources Committee and two of his associates.
"I briefed them on my idea to explore an ESOP and was met with positive encouragement from all," said Amata. "I also spoke on this matter with a senior Executive Branch official who told me that, depending on the viability of the proposal, federal funds might be made available to underwrite a feasibility study with a quick turn around." A federally funded feasibility study would answer many questions and concerns, including where the money would come from to create an ESOP company.
In her meeting with Faoa, Amata said she encouraged him to review the proposal and move forward expeditiously. "If an ESOP makes sense for COS, we should lay the groundwork rapidly," she explained. "I had thought about remaining in Washington for additional meetings," Amata continued, "but Congress was recessing for the Memorial Day District Work Period, so I knew my time would be more productive back at home at this point."
Over the course of the Memorial Day weekend, Amata briefed Congressman Faleomavaega. She also briefed Senate Economic Development Committee Chairman Utu Abe Malae on the ESOP plan.
"I am familiar with ESOPs from my time studying at the University of Pittsburgh in the 1970s," said Utu. "It was a time that a lot of old manufacturing industries were closing in the Northeast and a number of plants were sold to the employees and kept operating. It certainly is worth exploring for COS and we'll have to see if any special legislation might be necessary to make the proposition more attractive."
Amata also briefed Alo Senator Dr. Paul Stevenson, Senate Education Committee Chair and previously the Economic Development Committee Chairman. Said Alo, "I applaud Amata on taking this initiative. Whether all the conditions are ripe here to make an ESOP work remains to be seen, but that is what a feasibility study is for. I hope ASG will give this favorable consideration."
Aumua discussed the plan with House Economic Development Committee Chairman Alexander Jennings, who expressed his appreciation to Amata and said he's "willing to do all (he) can to move on the project and bring it to the attention of the Speaker."
Rep. Vaito'a Hans Langkilde, whose district houses both StarKist and Chicken of the Sea, reacted positively to the proposal, saying, "My main concern is the economy and the opportunity for locals to maintain their jobs for the overall benefit of the people and Territory."
"What particularly excited me," said Amata, "is that Paul Horn explained we would not need to be concerned about stopping future increments of the federal minimum wage, at least insofar as COS is concerned, because as owners of the plant, the employees could make the decision to plow that portion of their wages back into stock purchases, thus lowering overall costs. Moreover, the pressure to maximize profits that usually comes from stockholders would be eliminated because the workers would be the stockholders. "Their main concern right now," she concluded, "is just to keep their jobs."
---
June 5, 2009
Fort Jackson hosts Aumua Amata who calls on soldiers to use Army skills and APAH cultures to lead
FORT JACKSON, SC. In the keynote address for the Asian Pacific American (APA) Heritage Month observance at Ft. Jackson S.C. on Wednesday, Aumua Amata told a crowd of several hundred military and civilian personnel to apply the skills they have learned in the army and use the consensus orientation of their culture to provide the leadership our country will need to meet the challenges of the 21st century.
"Some of you who may be nearing retirement from military service may even worry about your prospects for a future career after you leave the armed services," said Amata. "I say to you that you need not worry, because the Army builds leaders and the civilian world seeks, the kind of disciplined leaders for which the military is so rightly honored."
Amata noted that in listening to the achievements of International Leadership Foundation APA awardees last year, "It became clear to me that whether these honorees were being cited for accomplishments in government, business, science or the arts, these men and women all shared common leadership styles that are rooted in our Asian and Pacific cultures.  These values include respecting our elders, honoring our country and reaching decisions by consensus."
In conclusion, said Amata, "As Asian Pacific Americans in military service, you are developing the kind of leadership this country will need as we adjust to the new challenges of the 21st century. It is the kind of leadership that Asian Pacific Americans are uniquely suited to offer and, with your superb military service, you have the opportunity to play a pivotal role in our destiny as a Nation.  Take full advantage of this opportunity and it will serve you well as you serve your country."
Amata's trip to Ft. Jackson was the result of a request made by the Ft. Jackson Samoan community, in an effort led by SFC Fa'apepele Hunkin-Tajalle of Nu'uuli, who is on the staff of the base's Inspector General.
Upon arrival, Amata was greeted by SFC Hunkin-Tajalle and Esera Tauai of Amanave, who escorted her to a meeting with the commandant of the U.S. Army Chaplain Center and School and a tour of the facilities.
"I really cannot say enough about Pele," said Amata. "The warmth of my greeting, the hospitality and friendship were something I won't forget." Amata was Pele's house guest during her two day stay at the Fort and organized a Pacific Islander community fiafia at her home the evening before the APA event.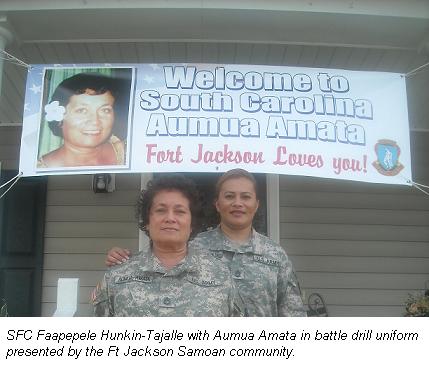 "It was a great opportunity to update people about what is going on at home," said Amata. "There was a lot of concern expressed for the fate of the families whose lives will be disrupted by the closure of the Chicken of the Sea cannery."
Several presentations were made at the Samoan community event, including an engraved pewter mug from veteran CSM Charles Tobin on behalf of the Special Operations Airborne Sustainment Brigade.
MAJ Tauapai Laupola served as the evening's emcee and CW5 Koko Yandall of Leone joined in the festivities. Samoan Pastors Lui and Lupe Asuega Salt from Fort Bragg offered the prayer at the gathering. In addition to the senior military personnel from Ft. Bragg in neighboring North Carolina, Samoans came from Ft. Stewart and Ft. Gordon, GA and even a soldier stationed in Guam, one in Kosovo and one in Germany joined in the festivities.
Aumua received additional Fort Jackson awards from the Post Command Sergeant Major on behalf of the Commanding General, BCT Center of Excellence; the Commandant and the CSM presented an award for excellence from the U.S. Army Chaplain Center and School as well as the Adjutant General and CSM's Regiment award.
Among the entertainment highlights of the Fort Jackson APA luncheon were dancing by the Filipino community, the Fort Gordon Samoans Christian Fellowship and the highlight, the Taualuga, was performed by newly promoted CPT Simeamativa Kruse of Leone, whose parents flew in from American Samoa for the ceremony.
Amata departed Ft. Jackson the next morning following her address and arrived back in American Samoa that evening.
---
Aumua Amata to deliver keynote address at Ft. Jackson's Asian Pacific Heritage event
Source: Samoa News
Tuesday May 19, 2009
May 19, 2009. PAGO PAGO. Aumua Amata departed Pago Pago Thursday night for Ft. Jackson, SC where she will deliver the keynote address at the Army base's Asian Pacific American Heritage (APAH) Month observance on May 20.
Amata will speak to this year's theme: "Leadership to Meet the Challenges of a Changing World."
Her invitation came at the request of the large Samoan military community in the Columbia area. Ft. Jackson is the largest and most active Initial Entry Training Center in the U.S. Army, providing basic training to 35 percent of all soldiers and 69 percent of the women entering the Army each year. The primary mission at Ft. Jackson is to provide the Army with new soldiers.
"I am very much in debt to those who are hosting this event," said Amata in expressing her gratitude at being invited. She added that APAH Month is a top priority with her, and finds it personally heartwarming to be able to see fellow Samoans in the audience because "it is always a thrill to see people from families you know when you are so far from home, especially when you come from such a tiny home as our little islands."
Commenting on this year's theme, Amata observed that it "is especially timely with the many challenges we face both in the territory and as a nation."
In an outgrowth of her service as a member of the President's Advisory Council on Asian Americans and Pacific Islanders, Amata for the past ten years has been a popular guest speaker during APAH Month at military bases and at federal civilian facilities alike.
Although her term as commissioner expired in 2004, the invitations have not abated. In 2006 at the request of Samoan troops, the Army invited her for the joint celebration of National Military Appreciation Month and APAH Month in Germany, where she visited the wounded at Landstuhl Regional Medical Center, spoke at the U.S. Army Garrison in Stuttgart and the European Command, at elementary and high schools for U.S. dependents and at Garmisch-Partenkirchen Base in the Alps where she visited recuperating troops from Iraq and Afghanistan. Several bases already have made preliminary inquiries about her availability for 2010.
"The trip to South Carolina brings back a lot of memories for me," said Amata, "because I accompanied my dad to a visit to nearby Ft. Bragg, NC, in 1982 and to Ft. Benning, GA, for his induction into the Army Infantry Hall of Fame."
Amata's father, the late Governor Peter Tali Coleman, served in the Pacific theater in World War II. "I understand some of the Samoans at Ft. Bragg are coming for the Ft. Jackson event, so I am bringing them a little memento of my visit there."
Click here to see a larger version of this picture.
En route to South Carolina, Amata also will spend a day in Washington to consult with executive and legislative branch officials on the progress of requests for additional assistance to the territory in light of the announced closure of the Chicken of the Sea cannery.
"This is a very stressful time for so many of our families," said Amata, so we all have to pull together to solve the problem. The time has come for all of our leaders to focus on this problem like a laser beam. There is no time for other agendas."