This time, said the staff, the Democrat controlled Congress treated our Delegate worse on the federal minimum wage issue than the Republicans had done on Section 936 and Section 30A. This was because, according to insider Democratic staff, the Delegate was blaming everyone and made no effective alliance with anyone. He caused no one to want to help our tuna canneries and that made a lot of people in Congress think American Samoa will do better "calling the canneries' bluff" and adjust and adapt if they really leave.
And yes, American Samoa is subject to the political whims of Congress. That comes with the territory status, so to speak. Republicans are in the minority now, and they are fighting fire with fire, doing to the majority what was done to them when the Republicans controlled Congress, and it is the responsibility of the majority party to take the heat from a political attack and do what is right. In this particular case, the majority caved in to a political attack by the minority that was too close to its highest ranking leader and sacrificed policy for political cover. That, too, should have been anticipated. All-in-all it was a fiasco.
The question is: Are we happy with the current state of federal policy and federal-territorial relations? Blaming DOI and/or OIA (Office of Insular Affairs) is off target. The Department of Interior (DOI) did a lot more to help American Samoa and try to broker a better result than a lot of people believe they should have done. Papaliitele Cohen and Interior went way out on a limb trying to help American Samoa. It was not OIA or even the territorial policy committees in Congress that did this. It was national politics and national policy that drove this, and pointing the finger at DOI is blaming the best friend American Samoa ever had in the U.S. government. By doing so, we are blaming those who tried to help our territory out of a disaster it found itself in.
On Section 30A and this CNMI crossover effect, Democratic staff sources told me, OIA did as much as they could, but national policy trumps territorial policy every time. The CNMI reforms were important because of that territory's link to the Abramoff scandal and the Democrats were determined to make a statement that they were reforming a problem that that scandal had caused. That became a corruption issue and that is a 2008 election issue. That made it open season for political attacks and the Speaker Pelosi alleged link to a cannery was irresistible for Republicans who have the same priority as Democrats, which is 2008 election politics. Territorial policy always gets lost in the shuffle when that happens.
Congress included American Samoa in a policy regarding minimum wage that was aimed at CNMI and a policy regarding IRC (Internal Revenue Code) Section 30A (which by the way expires December 31, 2007) that was driven by a marginal faction in Puerto Rico who were trying to salvage a lost cause.
Personally I think it is incredible that Congress could not carve out a federal policy toward American Samoa based on its unique circumstances. Part of the problem rests with American Samoa for not defining an agenda Congress could adopt that would have been good for American Samoa and the Nation. Instead it became an issue of whether American Samoa would be treated the same as everyone else, when it should have been a substitute legislative package customized for American Samoa's needs that was as bold and important as CNMI's package, but not the same.
We need to be pushing a positive program with Congress and not just reacting to problems.
---
Amata's Pacific Notebook: "Tautua and Networking"
By Aumua Amata
Reprinted from Samoa News
Monday, June 4, 2007
Throughout his public career, my father always emphasized the concept of service through his use of the Samoan word "tautua." Tautua can take many forms. When I am at home, I sometimes work as a volunteer with the LBJ Hospital Auxiliary, I sing in my church choir, promote cancer prevention awareness and participate in the activities of Business and Professional Women of American Samoa and Goodwill Industries of American Samoa, just to cite a few examples. When I am in Washington, I spend a lot of time networking: making connections with people in politics and government who I might be able to call upon to help our people in some way. There is an old saying that "It's not what you know, but who you know," and that is as true in Washington as it is in American Samoa.
Saturday's Samoa News carried a story about the award received by LTC Evelyn Vaitautolu "Evey" Langford, the daughter of Senator Vaitautolu of Manu'a District #1, at the annual conference of the Federal Asian Pacific American Council (FAPAC), a group I was privileged to address in San Francisco in 2003. FAPAC, the esteemed national organization of federal government as well as military personnel, used the occasion of May being Asia Pacific American Heritage Month to present its awards for outstanding achievement and I am honored Evey invited me to be there.
As Friday's Samoa News article said, this year the keynote address was delivered by Dr. David Chu, a Chinese American who serves as Under Secretary of Defense for Personnel and Readiness. I was delighted and surprised that Dr. Chu chose to make special recognition of the contributions and sacrifices Samoans have made in military service to our country. If you did not read this story, I encourage you to find a copy of the Friday paper because Samoa News carried in their entirety his remarks about Samoans. It was an extraordinary demonstration that we Samoans are not forgotten by our national government.
At the same time, I do not believe it was totally a coincidence that the Under Secretary chose to single out Samoans at this ceremony, when he could have picked any other ethnic group that makes up the diverse Asian Pacific community of peoples. I think Samoa may have been on his mind because he recently had to deal with another matter that concerned our islands.
In what was purely an oversight, American Samoa was left out of another military ceremony recently and when this omission was not corrected through normal channels, I was asked if I could help. This is where the networking comes in. As a commissioner on President Bush's Advisory Commission on Asian Americans and Pacific Islanders during his first term, I came to know David Chu and consider him a friend. I called his office to bring this oversight to his attention and within less than a week it was resolved. In the course of my conversations with his staff, I also brought to their attention that magnificent front page article in The Chicago Tribune not long ago on American Samoa's exceptional tradition with military service. I would not be surprised if that article made an impression on Dr. Chu and, when he saw that an American Samoan would be receiving a top award, prompted his remarks about Samoans at the FAPAC ceremony.
Speaking of the Chicago Tribune piece, it is unusual that a highly regarded newspaper in a major U.S. city like Chicago with no large Samoan population would run such a lengthy feature article on page one, above the fold in its Sunday edition (Samoa News has it linked on line and I also have it linked on my website www.amata.as). So I have to wonder if it is coincidental or might it have to do with the fact that American Samoa is now blessed to have in residence Maggie Keane? My friend Maggie just happens to be a highly regarded former public relations executive who spent her entire career in Chicago before to moving American Samoa over a year ago. She may be here now but she has not lost her own network with the media in Chicago.
In any event, whatever prompted Dr. Chu's lengthy remarks about Samoans, I was as proud of Evey Langford last week as I was when President Bush chose to shake hands first with newly commissioned 2LT Valasi Marlena Lancaster Morgan of Nuuuli on May 17 after his remarks at the ROTC commissioning ceremony at the White House. Two Samoan women making history in the military: one at the beginning of her career and another approaching the senior ranks of her profession. Their achievements serve as bookends of the remarkable continuing story of great contributions by American Samoans and Asian Pacific Americans at a time when their Nation needs them most. American Samoa salutes them.
Samoan Stewart Coleman Glenister of Pago Pago, grandson of the late American Samoa Gov. Peter Tali Coleman, graduated in the top five percent of his class of 500 HS students and was accepted both by West Point and U.S. Naval Academy. The National Honor Society scholar who also made the Texas All-State Swim team is on his way to a military career and has decided to swim for the Army this Fall at West Point.
And since I am devoting this column today to Samoans in the military, I want to make note that my own nephew, champion swimmer Stewart Coleman Glenister, is also on his way to a military career. He graduated Saturday in Texas in the top five percent of his high school class of almost 500 students, which sounds big to us in American Samoa but is a normal sized class in Texas. This National Honor Society scholar and Swim Team Captain who made it all the way to the Texas All-State Swim Team (a huge achievement in Texas terms), was accepted both by West Point and the U.S. Naval Academy.
In the end, he chose to stick with the service of his father, Iraq War veteran CSM (Ret.) Roland Glenister, Jr. of Nuuuli and Utulei, and went with West Point. I am told that every year, 30,000 student application packets are opened and, out of that number, 10,000 get nominated. Still, there are only so many slots and in the end, only 1,200 students receive appointments. As the son of a military man, Stewart received a Presidential Nomination. His mother is my sister, Limonmon Coleman Glenister of Pago Pago and his proud paternal grandparents are Tupuola Paulo Belford and Naijo Nomura Belford and Roland, Sr. and Bernadette "B.Y." Glenister. His maternal grandparents are my parents, the late Governor Uifaatali Pita and Nora S. Coleman.
As many of you know, my Dad also was an Army man and a Pearl Harbor survivor, and was inducted into the Army Infantry Hall of Fame at Fort Benning, Georgia in a ceremony I was fortunate to attend some years ago. When we were together last week, Evey Langford happened to mention to me that she saw Dad's name plaque there while she was stationed at Ft. Benning. And in yet another interesting coincidence, another FAPAC award winner that day introduced his family to me and reminded me that we first met last year in Germany when I delivered the Asian Pacific American Heritage Month and National Military Appreciation Month keynote address to the military and civilian community at the U.S. Army Garrison in Stuttgart. It's a small world.
Best of luck to Stew! I expect him to follow in the Army footsteps of Evey and Valasi Marlena and see him in Washington someday getting an award of his own. In serving our country, they are serving our people, too. As for me, I enjoy going to these ceremonies, not only because they make me so proud to be a Samoan but because they offer even more networking opportunities to put back into service to our people in the future. There are many ways each of us can put our skills to use in "tautua" to our Samoan community. This is one of them for me.
As always, you can find me at aumuaamata@mail.com if you have any thoughts, advice or comments. I answer all of my emails personally and appreciate your patience if you haven't heard back just yet---you will.
(c) Osini Faleatasi Inc. dba Samoa News reserves all rights.
---
First American Samoa woman lieutenant colonel gets top Army Reserve award
By Samoa News Staff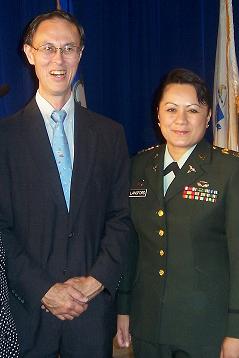 Undersecretary of Defense for Personnel and Readiness & LTC Evelyn Langford
Reprinted from Samoa News
June 3, 2007
As Asian Pacific American Heritage Month came to a close, the very prestigious Federal Asian Pacific American Council (FAPAC) held its annual leadership conference this week in Washington, D.C., rounding out an exciting month of events all over the country to recognize the many contributions of Asian Pacific Americans throughout the history of our Nation. FAPAC is a national, nonprofit, nonpartisan organization representing the civilian and military Asian Pacific American (APA) employees in the Federal and District of Columbia governments. It is organized exclusively for educational purposes.
Lt. Col. Evelyn Vaitautolu "Evey" Langford of Manu'a was among those receiving a top award at the FAPAC conference. She was accompanied by her husband Sgt. Major (Ret.) Dave Langford of Fagatogo and her dad Senator Vaitautolu of Manu'a District #l.
Congressman Faleomavaega sent Tavita Richmond, son of Papaliitele Violet Hunkin and Associate Justice Lyle Richmond, to represent his office.
Evelyn extended a special invitation to Aumua Amata to be at the ceremony.
"I cherish this invitation because I am particularly proud of our Samoans who serve in our Nation's military to protect the freedoms we all treasure," Amata said.
When Evelyn's name was called, she came to the stage to be recognized for her tireless efforts to reach out to the Asian Pacific American communities in and outside of her service, the U.S. Army.
She was acknowledged for her extraordinary generosity of person, time, resources and spirit in serving the interests and needs of Asian Pacific Americans (APA) both on-duty and off-duty. And since President Bush challenged everyone to look at ways they can address the unmet needs of the APA community, this dovetailed with the President's commitment to Asian Americans and Pacific Islanders during May, the designated month to celebrate Asian Pacific American Heritage.
In his keynote address, Under Secretary of Defense Dr. David Chu highlighted the many military contributions of Samoans over the years. He cited that American Samoa has suffered the highest of Iraqi war casualties per capita than any other American state or territory.
"Within the context of the history of significant military contributions by Samoans, about which Under Secretary Chu so eloquently spoke, our own LTC Vaitautolu-Langford is in great company and has distinguished herself in carrying out her duties with excellence," Amata said.
As an Executive Director in the 3rd Medical Training Brigade, Headquarters, Medical Readiness and Training Command, Evelyn has contributed much to the fabric of diversity for Asian Pacific Americans throughout her 24 year military career.

Mr. David Langford, Aumua Amata, Colonel Corrine Ritter, Office of the Chief, Army Reserve, LTC Evelyn Langford, Mr. Wes Lewis, Headquarters, Army Reserve Medical Command, Senator Vaitautolu of Manu'a District No.1, Colonel Susan Cunnup, Commander, 7306th Medical Exercise Support Battalion, Medical Readiness & Training Command.
With the start of her service in the 100th Battalion, 442nd Infantry, the most highly decorated unit of World War II whose few remaining veterans were recently recognized by the President at the White House, Evelyn made history by becoming the first American Samoan woman to achieve the rank of LTC in the United States Army.
Her leadership of many Asian Pacific American committees has led to many significant programs linked to Army Family Team Building. Her belief in recruiting, retaining and advancing Asian Pacific Americans and her zeal to serve the APA community is also evident in her work with the Wounded Warriors program in capacities outside the scope of her normal responsibilities.
For years, she has volunteered her time on military service programs and as a pianist, choir leader, Sunday school teacher and coordinator for youth and young adult ministries, Evelyn has provided for the spiritual growth of soldiers, civilians, contract employees and their families. Her stellar achievements reflect great credit upon herself and the United States Army Reserve.
(c) Osini Faleatasi Inc. dba Samoa News reserves all rights.
---
Under Secretary pays tribute to Samoans' military contributions
Reprinted from Samoa News
June 1, 2007
Under Secretary of Defense Dr. David Chu paid tribute yesterday to the contributions of Samoans in the U.S. military adding that the territory has suffered the highest of Iraqi war casualties per capita than any other American state or territory.
Dr. Chu, Undersecretary of Defense for Personnel and Readiness, LTC Evelyn Langford, Ms.Williams, President, FAPAC
During his keynote address made at the Federal Asian Pacific American Samoa annual leadership conference this week in Washington D.C., Chu highlighted the many military contributions of Samoans over the years.
"To date, seven residents of American Samoa have been killed in Iraq as well as five Americans of Samoan ancestry residing in the United States," said Chu. "It is fitting irony of our history that many from American Samoa serve in Companies Bravo and Charlie of the 100th Infantry Battalion, 442nd Regiment. It deployed to Iraq in 2005-2006 with over two hundred American Samoan soldiers."
After explaining American Samoa's political status, history and where it is located, Chu said that while residents of American Samoa do not pay United States income taxes or vote in presidential elections, they may serve in the U.S. Armed Forces.
"There are more Samoans living outside American Samoa (128,183) than living in it," said Chu. "In 1940, the Marine Corps was authorized to raise a battalion of Samoans to be incorporated into the Marine Corps Reserve as the 1st Samoan Battalion. When the unit was disbanded in 1944, it had nine Marine Corps officers, thirty-two American Marines and 494 Samoan Marines. American Samoans also individually served in off-island military units on a non-segregated basis."
Chu said American Samoans served in the Vietnam War, one of them Sgt. 1st Class Konelio Pele. He said on May 29, 1966, Pele was serving as a platoon sergeant in Company A, 3rd Brigade, 25th Infantry Division. His unit participated in a helicopter assault on a Viet Cong unit in Pleiku Province.
"After securing the landing zone, SFC Pele's unit moved to assist other elements of his company that had become pinned down by enemy fire. During the ensuing action he single-handedly charged a Viet Cong machine gun, killing its crew," said Chu. "Using the machine gun, he covered the withdrawal of his platoon. Back at the landing zone, SFC Pele realized that a wounded member had been left behind. Moving through an open area under enemy fire, he found the wounded soldier and carried him back to the landing zone to be evacuated."
The defense under secretary said that for his actions, Pele was awarded the Silver Star for valor. For his participation in other actions, he received a Bronze Star, two Purple Hearts, and the Combat Infantry Badge. In July 2006, he said the new U.S. Army Reserve Center in American Samoa was named in his honor."
"Not surprisingly, American Samoans sought more senior leadership positions over time. Leafina O. Yahn became the first Samoan to graduate from the U.S. Military Academy at West Point in 1989. She is still on active duty in the Army, serving as a LTC and stationed at the U.S. Army Ordnance Center and School, Aberdeen Proving Ground, Maryland, where she is Director of the Command and Staff Department," he said. "In 2002, Nina Salazar became the first American Samoan to graduate from the U.S. Naval Academy. On May 5, 2006, Iuniasolua T. Savusa, an American Samoan, became the Command Sergeant Major (CSM), United States Army Europe and Seventh Army. Savusa first enlisted in the Army on June 17, 1975. He was trained as a basic combat infantryman and sent to Fort Lewis, Washington. Over the years, he held positions of increasing responsibility."
Chu said that after graduation from the U.S. Army Sergeant Major Academy in 1995, Savusa assumed duties as an Operations CSM in Korea and then CSM of the 1st Battalion, 502nd Infantry Regiment, 101st Airborne Division in 1997.
In this capacity, he said Savusa became the highest ranked enlisted Samoan in the U.S. Army.
Chu also mentioned that there's virtually no anti-war movement in American Samoa. He also referred to Sgt. Tina Time, who was killed in Iraq in December 2004 and talked about her teenage brother Emosi, a member of the JROTC who has been unwavering in his decision to follow his four siblings into the military.
Emosi graduated from Leone High School on Wednesday. He was awarded a scholarship to attend Wentworth Military Academy.
According to Chu, Emosi said, "Not everyone can understand why someone like me would still want to enlist. She (Tina) would."
(c) Osini Faleatasi Inc. dba Samoa News reserves all rights.